Poker for conditional money - which rooms can I play in
Conditional poker - popular online game rooms
Many players who are interested in more excitement than money prefer poker for conditional money. You can play online with real opponents, the main thing is to know which rooms provide this opportunity.
Online poker for virtual money
The game for conditional currency (candy wrappers) is practically no different in format and disciplines from standard games, the only thing is that instead of real money you are given conditional chips.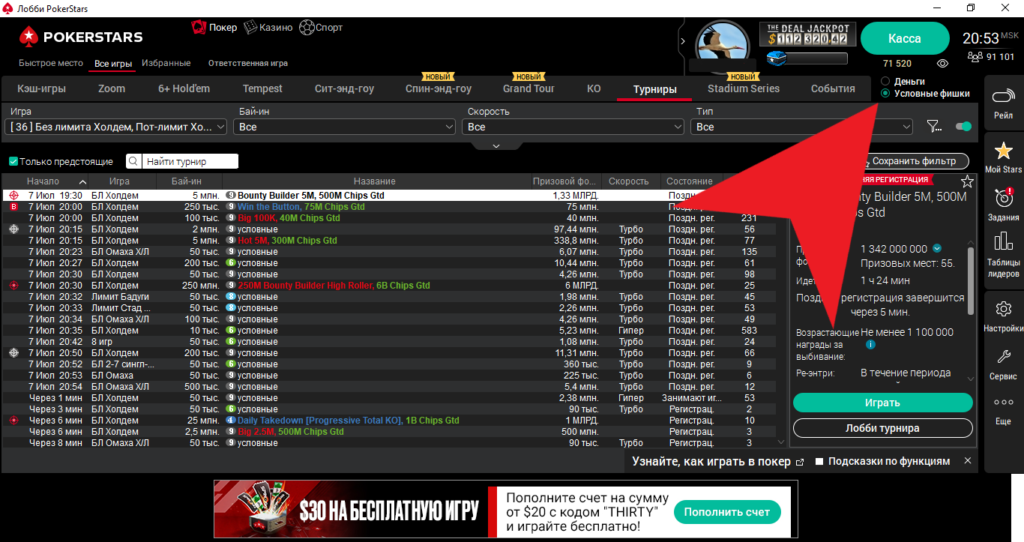 Therefore, in such a game you cannot count on a cash prize or exchange chips for things with real value. The exception is the room PokerStars, which offers players with conditional chips to take part in the competition for free entrance tickets to real events.
What does the game for virtual currency give, and how is it interesting for participants:
First of all, this is fun, which after a while becomes a real hobby and for some - the beginning of a career;
For those who plan to switch to a game for real money in the future, this is a great way to improve their knowledge, skills and level up. At this moment, there is another side to the coin: since candy wrappers have practically no value, your opponents will play an open, illogical and risky game. Therefore, the confrontation may not be similar to that conducted at real cash tables.
Disadvantages:
A limited number of stacks, usually three free stacks in a row.
After the complete consumption of the set chip limit, the timer automatically starts. He counts the time until he receives a new portion of the chips.
After the expiration of the waiting period, you can make a request for another stack, and after losing it, the timer starts again. In most poker rooms, the timeout increases until a new day arrives and a new opportunity to get free stacks.
In some rooms there is the opportunity to get a new portion of the chips daily, while it is not necessary to exhaust the supply of previous ones. If you do not have enough chips, and you do not want to wait for a new replenishment, you can buy them for real money.
Remember, won virtual funds for conditional chips, it is impossible to exchange for real money and withdraw. But there is one plus - donat for expanding the game to virtual currency.
Available rooms
Today, almost all large poker rooms offer their members the following opportunity:
PokerMatch
GGPokerOk;
888Poker;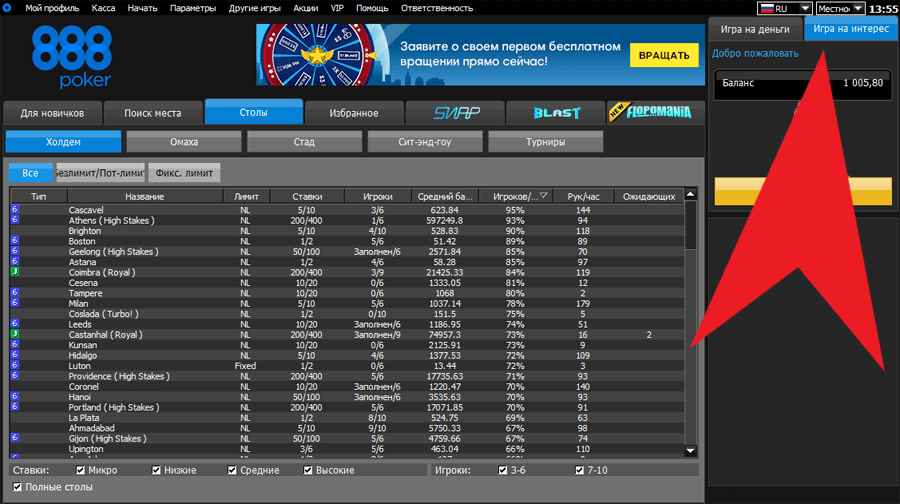 PokerStars
PokerDom;
PartyPoker;
Poker Stars Sochi.
Is it possible to earn on conditional money
Playing on virtual chips, it is impossible to earn, cash and withdraw real funds. Such a game is more suitable for excitement, the acquisition of new knowledge and skills in order to begin to play on the real cache in the future.
For those who are interested in earning money, you can use no deposit or take part in freerolls, if any, in the poker room.
FAQ
Where to find poker rooms with a minimal down payment
Before deciding on the choice of a room, carefully study the features of its work. Each room has individual conditions for making an initial deposit.
Virtual Currency Output
No, conditional chips can only be used for no deposit games. They can not be exchanged and cashed.
When to switch to a game with real money
The best step to transition is when you are fully familiar with the rules and basics of poker. Start with small limits to eliminate the risk of losing big money. Also at the start of a poker career for a while, give up playing at several tables simultaneously.
Conditional money poker is a real opportunity to learn the rules of the game, study the tactics and strategy of rivals in order to earn good money in the future and become a successful poker player.