Cashback PartyPoker - how to get a refund
Participate in the loyalty program and get up to 40% rakeback at PartyPoker 
What is rakeback, loyalty program and how to get cashback PartyPoker - about everything about it and not only we will tell you today. First, let's understand the definitions, and later move on to the details and conditions. 
What is PartyPoker rakeback?
Rake is a kind of commission that you pay the room for every bet you make or buy-in for the tournament. The size of the rake depends on many factors, including the scale and format of the tournament or cash game, but more than 5% usually does not exceed. Rakeback, respectively - is the return of a certain percentage of the rake. 
It makes up a significant part of the profits of professional players, so it is so important to choose rooms with a good return policy and with profitable loyalty programs. Your stable income directly depends on the amount of cashback that you receive from the room. 
Each poker room has its own rake part return system. At PartyPoker you can get your rakeback by earning a certain amount of points. For each rake generated for the room, you get a certain amount of points. The more points you get, the higher the percentage of money back.
PartyPoker Cashback is the name of the special reward program that allows all players to earn points honestly and fairly and exchange them for money. It doesn't matter whether you lose or win, the system is designed so that each player receives his return. Therefore, participation in the program puts you on an equal footing with other players and allows you to receive a stable income in the form of rakeback every week. 
PartyPoker Points System
To participate in the PartyPoker Cashback program, you need to score 25 points, after which the percentage of your return will be proportionally increased as the number of points you earned increases. For every 1 dollar rake generated, you get 1 cashback point.


The more points you gain, the higher your level in the loyalty program becomes, respectively, the more return you will receive. The cashback is credited to the player's account every Monday, so you always have a week to accumulate more points. The amount of payments depends on the level at which you are currently. If at the time of payment you were in the middle, then the percentage of cashback will correspond to the last level that was assigned to you.
As you already understood, PartyPoker Cashback is a profitable and understandable loyalty program that allows its regular players to earn stable and considerable income every week, while leaving everyone to gain. Participation in it motivates and encourages poker players to play more and more to win.
Playing at high stakes, such as the NL100, players can very well receive quite large amounts of return to their account, up to several hundred dollars a week. You can generate a big rake and get an excellent cashback later at the tables for fast poker fans - fastforward.
How to participate in PartyPoker cashback program
In order to start getting your stable rakeback, you must first go through the registration procedure:
Log in by entering your username and password in the downloaded and installed client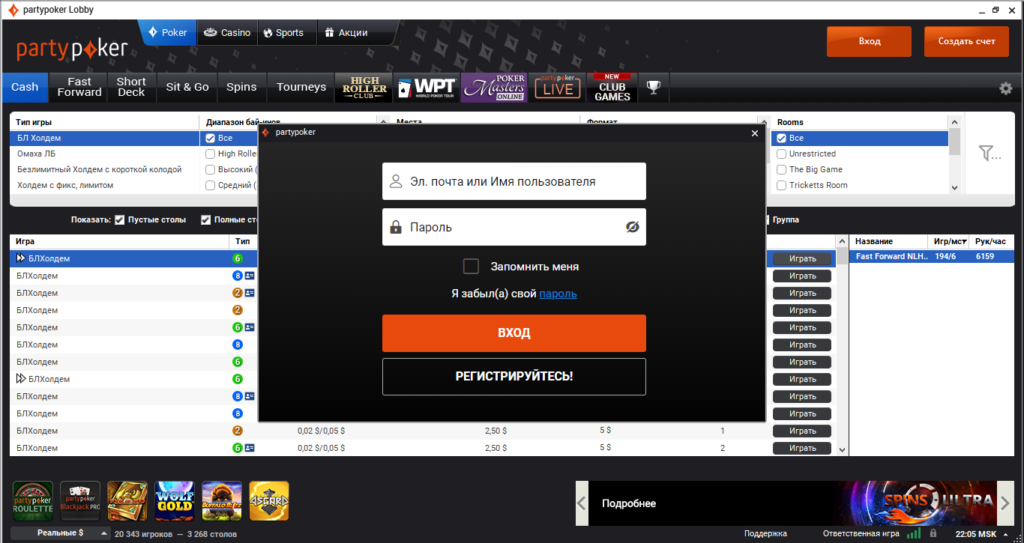 If you have already made your first deposit, go to the Promotions section >>> Refunds >>> Registration. 
Sign up for a loyalty program and start earning points
In the "Refund" section, you can also find out all the information you are interested in about earning extra points, your current progress, as well as about the weekly rate of points for the next level.
Today we told you what racketback and cashback are PatiPoker, why it is profitable to participate in the loyalty program, what advantages you get by earning points and generating rake, as well as how to register and start playing profitably and not missing a single opportunity for a steady income.